The election will be first order of business when Parliament resumes Tuesday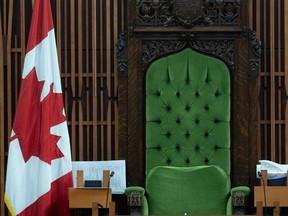 Article content
OTTAWA – Before Tuesday is out, the House of Commons will have a new Speaker and eight MPs are making a bid to take over the job that Anthony Rota recently quit.
A mid-session election for Speaker has rarely happened before, but it will take place Tuesday due to Rota's resignation. Rota stepped down as Speaker after he called on the House to recognize and applaud a 98-year-old man, Yaroslav Hunka, who had served in a Nazi unit during the Second World War.
Article content
Rota called for the recognition during the speech of Ukrainian President Volodymyr Zelenskyy and admitted later he had failed to do sufficient research on Hunka before calling on MPs to applaud him.
When Parliament resumes Tuesday, electing Rota's replacement will be the first order of business and there will be no debate on legislation until a new Speaker is in place. MPs will vote in person, using voting booths set up in the chamber with a ranked ballot.
To win, an MP needs to have majority support of the MPs who cast a ballot. Bloc MP Louis Plamondon, who has the longest record of service in the House of Commons and was elected to serve as interim Speaker until Rota's replacement is elected, will preside over the vote.
The Speaker's role is largely to act as an arbitrator during debates and he or she is supposed to remain politically neutral, but Speakers have played pivotal roles at times. Rota took the Liberal government to court over its refusal to provide documents about two scientists fired from a government lab and former Speaker Peter Milliken ruled the former Conservative government had to hand over documents about Afghan detainees.
Article content
Liberal MPs Alexandra Mendès, Greg Fergus, Stéphane Lauzon, Sean Casey and Peter Schiefke have all indicated they will run for Speaker.
Conservative MP Chris d'Entremont, the current deputy Speaker, is running, as is NDP MP Carol Hughes, and Green Party co-leader Elizabeth May has also said she will seek the job.
May won't actually be able to vote for Speaker herself, because she has been working from her riding since suffering a stroke this summer and the vote for Speaker cannot be done remotely.
D'Entremont acknowledged that he will have an uphill battle, but told reporters he was hoping to convince all of the opposition MPs to align with him and that there would be value in having a Speaker from outside the government benches.
"It is something that has only happened a very few times, but I think the indication right now is we're working in the right direction," he said.
He said he believes there is a need for more decorum and respect in the chamber and a Speaker can help achieve that.
"You have to have a personal relationship with all of the members of the House of Commons and understand what their needs and wants are, because ultimately the Speaker is serving the members," he said.
Article content
Hughes, who is one of two assistant deputy Speakers, spoke about her record in a letter she sent to other MPs seeking the job.
"I have placed the rules and regulations of our House of Commons above partisanship throughout my tenure, and I have continued to work to ensure that each Member of Parliament, and by extension their constituents, have a voice in our cherished institution."
Schiefke promised to ensure all MPs had a voice in debates.
"If elected, I vow to uphold the values of fairness, impartiality, and respect, ensuring that all Members of Parliament have a voice and that the democratic principles we hold dear are strengthened," he said.
The winning candidate will be able to move into the Speaker's official residence, the Farm, a house in the Gatineau Hills, and will also receive a pay bump of $92,800 over the base MP salary.
Twitter: RyanTumilty
Email: rtumilty@postmedia.com
Our website is the place for the latest breaking news, exclusive scoops, longreads and provocative commentary. Please bookmark nationalpost.com and sign up for our politics newsletter, First Reading, here.




Read More:Eight MPs on the ballot in race to become new House of Commons Speaker