Ark Invest and on-chain analytics firm Glassnode have teamed up to develop an economic metric for the Bitcoin network. This novel new framework establishes a suite of analysis tools and 30 new metrics with improved valuation and pricing models, said Glassnode.
According to the white paper published by Ark on August 24, a new way of modeling the dynamics of Bitcoin supply and demand called Cointime Economics has been developed. 
Bitcoin Cointime
The new metric is based on a fungible unit of measurement of Bitcoin's economy called 'coinblocks,' stated Ark. 
Cointime Economics establishes a link between the fundamental unit of Bitcoin time, the 'coinblock,' and the dimension of coin supply, said Glassnode before adding:
"This approach allows for the bifurcation of the supply into Active and Vaulted regions. These form the bedrock of new economic primitives."
The framework looks at coinblocks created, destroyed, and stored. The created portion measures total cointime in the network. Destroyed measures time-weighted turnover, and stored measures inactive coins.
Based on these, liveliness and vaultedness measure how active or inactive the network is.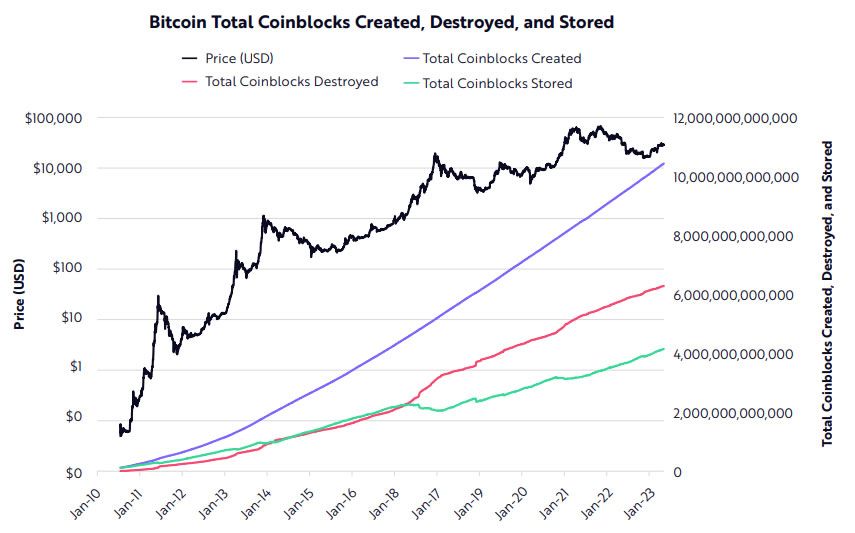 Furthermore, Cointime can enhance valuation models like MVRV (market-value-to-realized-value). It also introduces an Active-Value-to-Investor-Value (AVIV) ratio, using active cap and investor cap.
Cointime also improves measuring Bitcoin's inflation rate. This shows inflation was overestimated early on when few coins moved and underestimated now with more coin movement.
Overall, the new cointime metric provides a consistent framework to measure Bitcoin's economics. It weights coin importance by time held, capturing real economic activity better than traditional UTXO models. Glassnode stated: 
"From this, we recompute inflation rates, stock-to-flow ratios, and velocity, which we believe better describes the BTC supply and demand balance."
The white paper was authored by David Puell, research associate at Ark Invest, and co-authored by James Check, lead analyst at Glassnode.
BTC Price Outlook 
Following an intra-week high of $26,641 on Thursday, Bitcoin prices have retreated again during the Friday morning Asian trading session.
The asset was trading down 1.2% on the day at $26,110 at the time of writing.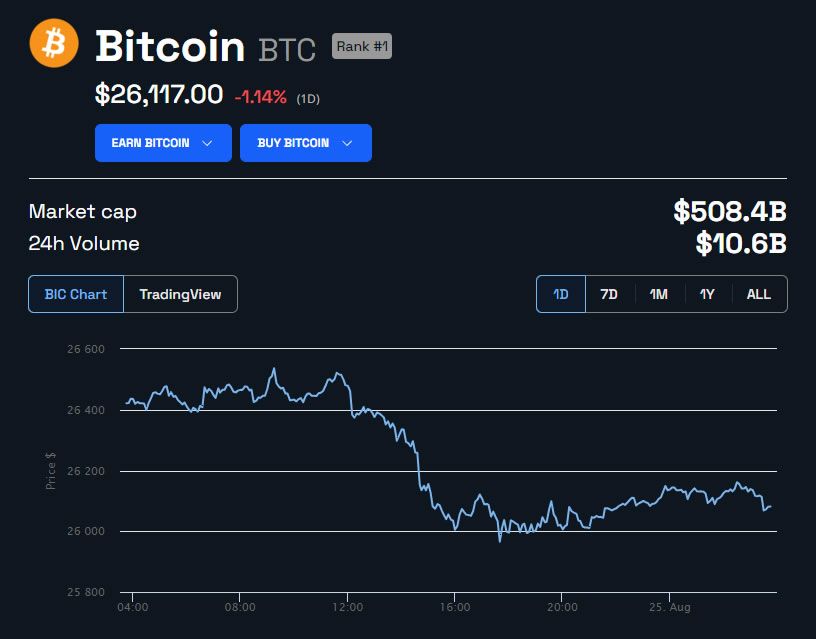 BTC has fallen back to its short-term support zone at $26,000, where it has started to reconsolidate.
Moreover, Bitcoin has lost 11% over the past fortnight and is down 62% from its peak price in November 2021.
Disclaimer
In adherence to the Trust Project guidelines, BeInCrypto is committed to unbiased, transparent reporting. This news article aims to provide accurate, timely information. However, readers are advised to verify facts independently and consult with a professional before making any decisions based on this content.




Read More:Glassnode & Ark Unveil New Bitcoin 'Cointime' Network Economics Model