27,000 people (and their pets) are now on evacuation order across B.C.
As firefighters hold fire lines and evacuees flee to safety across the B.C. Interior over the past several days, many British Columbians have been left wondering how they can help.
On Monday, Minister of Emergency Management and Climate Readiness Bowinn Ma pointed to a number of organizations ramping up efforts to help the 27,000 people now on evacuation order across the province. 
"Right now a lot of people have been asking how they can help. The outpouring of support from food banks, community organizations and non-governmental organizations has been nothing short of amazing and inspiring," Ma told reporters.
The minister urged British Columbians to look to registered charities, such as the Canadian Red Cross, which has put out an appeal for donations to help people affected by fire.
A full list of registered charities can be found at canadahelps.org.
United Way British Columbia, for example, has partnered with Interior Savings and Gulf & Fraser Credit Unions to match every dollar donated to wildfire victims up to $20,000. The money will go to make sure evacuees have their basic food and water. It will also back mental health supports, pop-up camps for kids, legal service for low-income families and grants to help people recover and rebuild.
And in the southern Interior, the YMCA of the Okanagan Association is also one of several community groups looking to support people evacuated from the path of wildfires. Donations will go to support displaced households by giving them free access to showers, fitness centres and swimming pools. They will also be offered "a place to spend time together to escape from the stress of displacement," according to the group.
Animals in need of money, volunteers
It's not just two-legged evacuees who need help.
On Monday, the BC SPCA said it has already supported care for hundreds of animals displaced by the fires, including 104 being cared for in the group's emergency boarding program.
Anyone who needs help supporting their pets is urged to call the BC SPCA Animal Helpline at 1-855-622-7722. Boarding will provided to pets at no cost to people displaced by fire. The group also helps people reunify with lost pets, and if safe, can aid in rescuing pets and animals that may have been left behind.
"Whether it is providing a few bags of dog food and a crate to a family evacuating or bringing a beloved cat into our temporary emergency pet boarding, we want pet owners to know that the BC SPCA is here for them during this scary time," Gaelene Askeland, senior manager of the group's animal care services in Kelowna, said in a statement.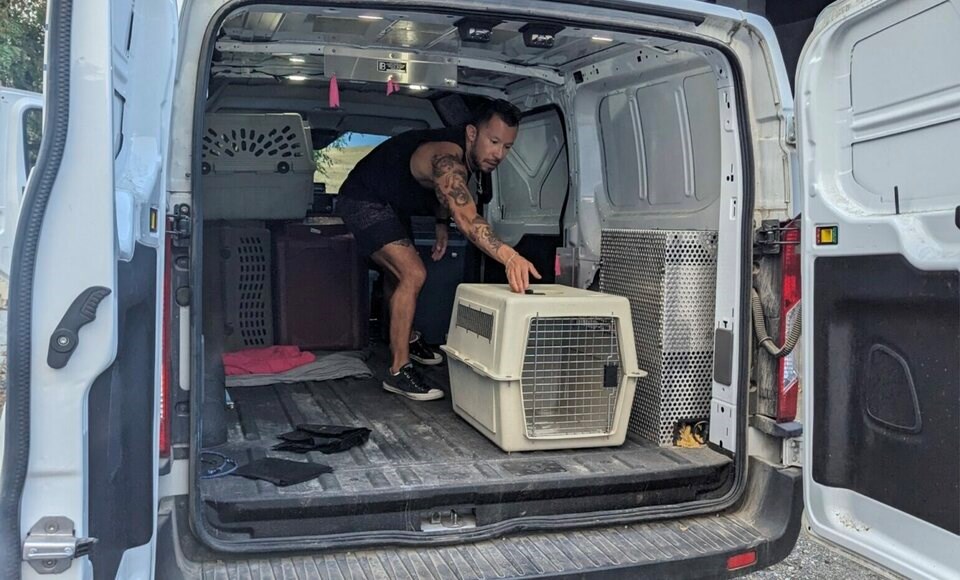 Demand for the BC SPCA's services have grown since extreme fire activity swept through B.C.'s southern Interior last week. The group says it needs more resources and people to help areas affected by wildfire. Potential volunteers can contact the organization by email at volunteers@spca.bc.ca.
Those who want to help out financially can do so by backing the cost of one day of care for a single animal all the way up to funding the costs of a full evacuation unit.
"We see people donating blankets, pet food to people that are in emergency shelters, in evacuation sites, looking after pets, looking after livestock," the premier said Monday. "It's just so great to see British Columbians coming together like that."