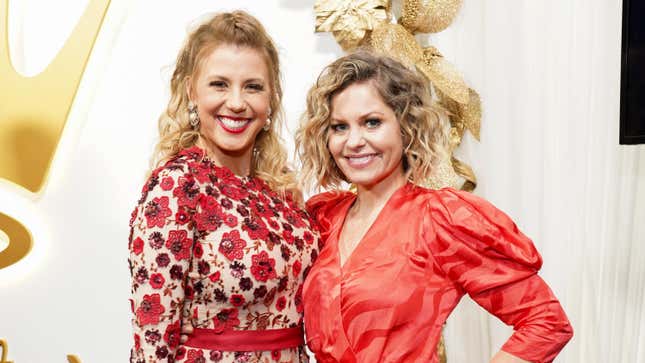 Jodie Sweetin has expressed her surprise and "disappointment" that a recent independent romantic comedy she filmed had been sold to Great American Media, People reports—which is, as it happens, the media company that employs her old Full House co-star Candace Cameron Bure as its chief content officer. The disagreement between the two isn't just delayed (and fictitious) sibling rivalry, either: Sweetin is a long-time advocate for LGBTQ+ rights, while Bure drew heavy controversy last year after she gave a Wall Street Journal interview in which she said Great American wanted to "keep traditional marriage at the core" of its movies. (Despite Bure's occasional protestations, the comments were largely seen as a swipe at Hallmark Channel, where she'd reigned as "Queen Of Christmas" for more than a decade, and which has, over the last several years, been increasingly mindful about including gay and nonbinary characters and performers in its productions.)
Jodie Sweetin on the appeal of holiday movies, "Fuller House" and Bob Saget
Sweetin didn't mention Bure by name in her own statement. (The two worked together as recently as 2020, starring as adult versions of the Tanner girls on Netflix's Fuller House.) But in said statement, she did make it clear that her new movie Craft Me A Romance (which sounds a lot like You've Got Mail but with crafting stores, natch) was sold to GAM's Great American Family network without her knowledge.
Here's her statement:
Sometimes, we, as actors, don't have control over which network buys the projects we are in, nor are we a part of the process in which they get sold. So I was very surprised to learn by reading about it in the press yesterday that the independent film I worked on over a year ago was sold to Great American Family. I am disappointed, but in keeping with my mission of supporting the LGBTQ+ family, any potential or future money made from this sale will be donated to LGBTQ+ organizations.


Read More:Jodie Sweetin "disappointed" to learn her movie was sold to Candace Cameron Bure's TV