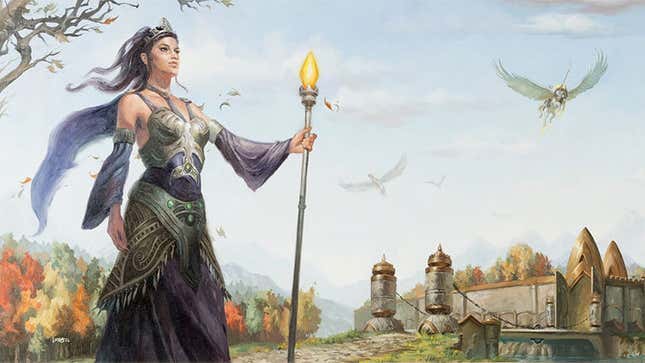 Late last month the developers of venerable MMO Everquest II introduced a new kind of loot box to the game that was, basically, a pay-to-win situation. It did not go down well with the long-running community!
Nintendo Showcase Standout Gunbrella Has The Best New Video Game Name Of 2022
As MMOBomb explain, the loot boxes, called Libant Evernight Heritage Crates, "bypassed lockouts and provided the chance to buy more opportunities at raid gear through the cash shop". Fans quickly called them "pay-to-raid" items, and took to the game's forums—which look as old as the game itself—to complain.
Their pleas were loud and numerous enough for developers Daybreak to almost instantly backtrack on the decision, posting late last week:
After listening to your feedback and having lots of discussions, we have decided to pull the Libant Evernight Heritage Crate from the in-game Marketplace store. The crate and most of its current contents will no longer be for sale.

We heard you and understand that there were particular elements of the Libant Heritage Crate that run counter to our shared values. We will no longer be making any of these types of items available.
G/O Media may get a commission
As a result of the uproar, Daybreak have decided that "in the spirit of community feedback" they'll now be opening a dedicated forum where players can weigh in on stuff like balance changes before they go live, not after:
I'd also like to announce that in the spirit of community feedback, we will be opening new Class Balance Forums for Everquest 2, look for these to arrive in the very near future. We want you, the community, the people who play these classes to help us decide what balance changes and bug fixes to prioritize with major updates. These forums will improve our communication with you and allow you to help us scope what changes happen. These forums will have a section for each class, and you will be able to propose changes, communicate with us, and vote on the fixes and balance changes you feel are necessary for your class. The goal here is to communicate with you the time and effort that these proposed changes will require, and openly discuss feasibility. We will make changes open for discussion as long as they remain within reason.
Sucks to be posting about it under these circumstances, but man, an EverQuest II story! In 2023!


Read More:MMO Introduces New Loot Boxes, Pulls Them Immediately After Fans Revolt