Russian President Vladimir Putin's five most pricey military losses in the ongoing war with Ukraine cost him more than $1 billion, according to a Forbes calculation.
The calculation pinpointed the Russian military's most painful and valuable loss as the Moskva warship, the flagship of Russia's Black Sea Fleet, valued at $750 million, that sank in April. Ukraine said it struck and sank the ship, though Russia said that it was an onboard fire that led to the cruiser's demise.
Russia's other four biggest losses—an $86 million Il-76 aircraft, $75 million amphibious assault ship Saratov, $50 million Su-30SM aircraft and $40 million Su-34 aircraft—bring the total over $1 billion.
Forbes calculated that between the start of the war on February 24 to its six-month point on August 24, Russia lost 12,142 pieces of equipment worth $16.56 billion. The total does not include Russian missiles, it said.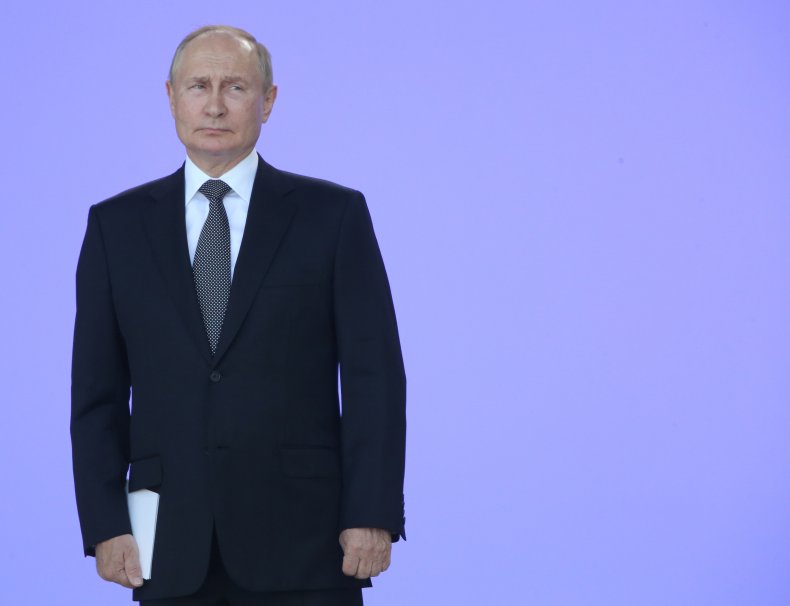 Newsweek reached out to Russia's Defense Ministry for comment on confirmation on the value of the military losses.
The six-month anniversary of the start of the war on Wednesday, which also fell on Ukraine's Independence Day, is a notable milestone in a war that some believed would result in a speedy Russian victory. But Ukraine has been leveraging Western-supplied weapons, including the U.S. High Mobility Artillery Rocket Systems (HIMARS), in recent weeks to carry out successful strikes against Russian targets.
While Ukraine records these victories, Moscow is allegedly carrying out forced conscriptions to fill vacant roles in its ranks while also offering cash incentives to current troops to motivate them to fight.
Retired U.S. General Barry McCaffrey tweeted Monday that Putin is "out of ideas" and will see things get worse for himself rapidly in the war. He also said that Putin's military is "operationally in a box," while Russia as a whole is "showing signs of severe strain from growing military losses and economic isolation."
In contrast to McCaffrey's assessment, Russia has continued to express confidence in its ability to succeed in its "special military operation." Ivan Nechayev, the deputy director of Russia's Foreign Ministry Information and Press Department, said during a press briefing last Thursday that the country's goals in Ukraine will be achieved.
"Only when [Russia's goals] are achieved, will it be possible to guarantee peace, stability and security in the region," he said.
It was not immediately clear how much Ukrainian equipment losses in the war have cost compared to Russia. The Congressional Research Service said in a report in late June that Ukrainian Brigadier General Volodymyr Karpenko estimated that some units of Ukraine's Armed Forces suffered losses of up to half of their equipment.


Read Nore:Putin's 5 biggest military losses in Ukraine cost him over $1 billion