The Big Picture
Damsel is a 2018 Indie Western that defies traditional gender expectations, offering a fresh twist on the genre's treatment of men and women.
Robert Pattinson's performance as Samuel disrupts conventional notions of a machismo icon, portraying a naive and troubled anti-hero.
Mia Wasikowska's character, Penelope, challenges Western tropes as a fierce and autonomous woman who becomes the film's leading icon.
Written, produced, and directed by brothers David and Nathan Zellner, Damsel is a 2018 Indie Western worthy of a second glance thanks to its unusual humor and subversions of the genre's traditional gender expectations. Starring Robert Pattinson and Mia Wasikowska — two of our time's most captivating young actors — the duo creates an improbable and ill-fated pairing that cleverly tosses customs of romantic tropes in Westerns out the window to serve up something totally unexpected. Using surprising narrative turns and a major shift in perspective halfway through, Damsel offers a fresh and thoughtful twist on the Western genre's conventional treatment of both men and women, solidified by the distinctive talents of Pattinson and Wasikowska's performances.
Set during the twilight years of the Old West around the turn of the 20th century, Damsel begins by following Pattinson's character, Samuel, out to the American Frontier, where his only wish is to find Penelope (Wasikowska) and ask for her hand in marriage. In a dusty outpost town, Samuel hires a boozy wannabe preacher named Parson Henry, played by David Zellner, to officiate their nuptials, who transforms into Samuel's unexpected, if not bumbling, sidekick. With a hilariously diminutive miniature horse called Butterscotch in tow, intended to be a wedding present, Samuel reveals that he believes Penelope has been kidnapped and must rescue his "damsel in distress" and sweep her off her feet like a fairytale romance. When Samuel and Penelope are finally reunited, everything is not as idealistic as Samuel has made it to be, sending the movie into unforeseen directions and obscuring who the narrative's damsel truly is.
Robert Pattinson Serves Another Twisted Performance in 'Damsel'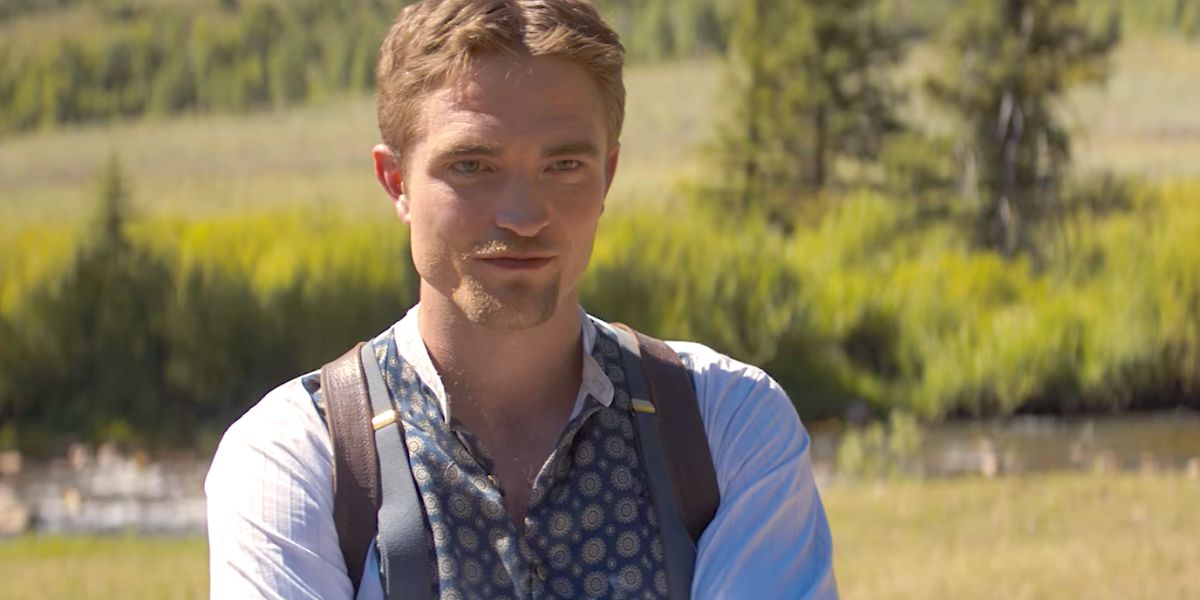 Always an actor who gravitates toward eccentric roles, Pattinson's turn as Samuel in Damsel disrupts the traditional notions of a machismo icon in the Western genre, instead serving up a naive and troubled anti-hero entirely out of place among the gunslingin' and whiskey-drinkin' rough necks of the Frontier lands. After meeting Penelope at a party back East just once before, he ignorantly becomes so infatuated with her that he follows her to the Wild West, fully convinced she will accept his love with open arms. Blinded by his romantic yearnings, Samuel fantasizes about the man he thinks he can become with Penelope's affection. As Samuel draws ever nearer to Penelope on his journey, the evolution of his character is gradually revealed, transforming from a noble, if not obsessed, figure into a desperate and selfish perpetrator.
As expected with Robert Pattinson's unique body of work as an actor, he taps into nuanced levels of passion and anguish to create a shattered version of a traditional Western hero through the character of Samuel. Never the one to take on trivial roles at this moment in his career, Pattinson faces the challenges of Samuel's contradicting qualities with great ease. Pattinson adopts a goofy Southern accent that plays up the Zellners' hilarious script, delivering lines like "I'm just a man who believes in love" with an irony that perfectly serves the film's off-beat sensibilities. Even as Samuel's absurd motives come to light, Pattinson portrays him with an empathy that adds to the character's pathetic state of mind. Pattinson's depiction of such a hopelessly lonesome figure reinforces the film's perspectives on men in the West as wandering souls searching for a splendid paradise they will never find, a rumination on real-life experiences of settlers who sought outlandish fortunes in the American Frontier. This performance in Damsel contributes to the actor's affinity for special projects, creating exciting relationships between Samuel's spirit and those of other recent movies starring Pattinson, including 2017's Good Time and 2019's The Lighthouse.
RELATED: This Christian Bale-Led Neo-Western Gave Us a Deeper Take on Cowboys
Mia Wasikowska Turns Western Tropes Upside Down in 'Damsel'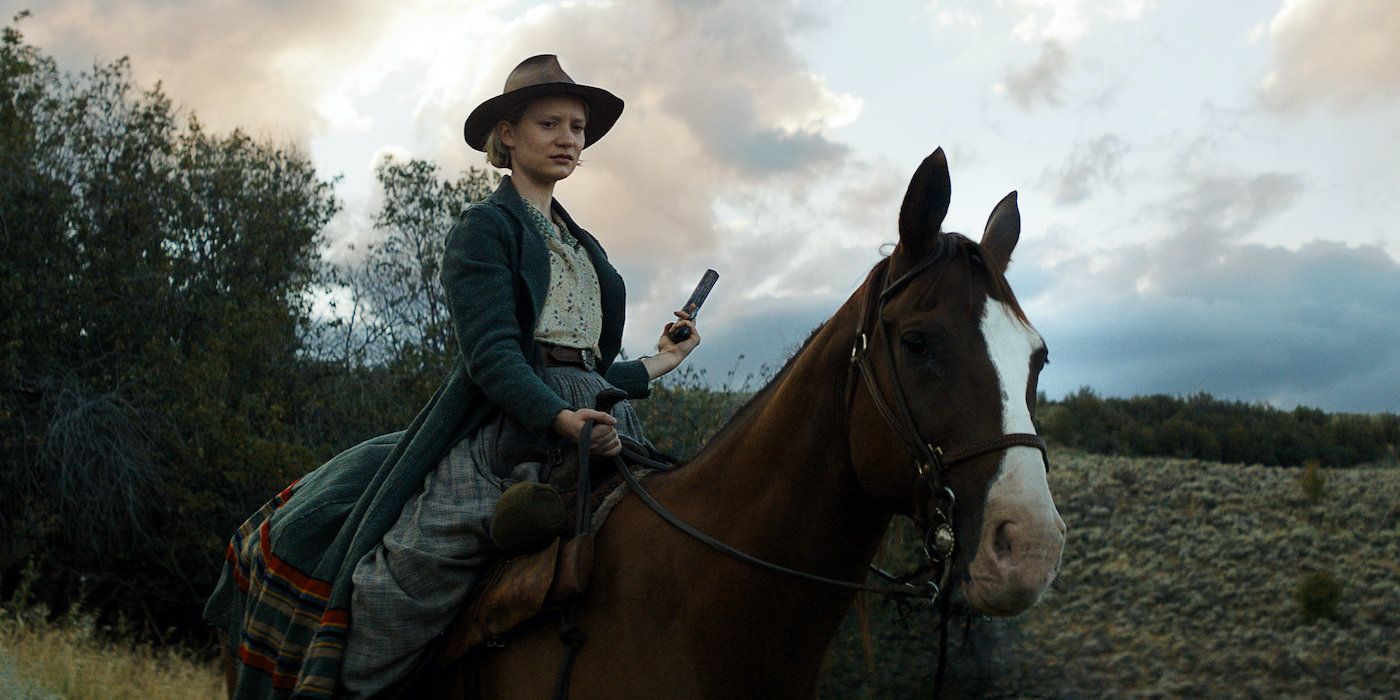 At first only present in Damsel through Samuel's romantic delusions, Mia Wasikowska enters as Penelope a third of the way through the movie, coming in with brilliantly fierce autonomy that splinters Samuel's conventional and uninformed perception of her as a woman in need of a savior. Forever altered by a sudden tragedy as soon as Samuel finds her, Penelope continually resists her lawless surroundings in the untamed West. Brandishing weapons, loaded with dynamite, and perfectly in control of the men around her, Penelope challenges the expectations of women in Westerns to become the film's leading icon. Quickly into the character's screen time, audiences realize that Penelope is far from the damsel Samuel has painted her.
Similar to Pattinson, Wasikowska rose to fame in big-budget movies like Tim Burton's Alice in Wonderland in 2010, but the actress is now much better known for her leanings toward independent cinema, and she has worked with many notable auteurs, including David Cronenberg, Guillermo Del Toro, and Mia Hansen-Løve. This affinity for the unusual pays off in Damsel, and her collaboration with Pattinson and the Zellner Brothers produces one of the most provocative and witty roles of her career. Furious toward her character's circumstances, Wasikowska delivers a biting performance full of rage that reflects Penelope's hopeless position as a woman surrounded by worthless men. Often linked to ethereal personalities on screen, Wasikowska's screaming and cursing personification of Penelope diverges from expectations to create a grounded figure who ultimately serves as the sole moral compass in Damsel.
Among countless on-screen revisions of the genre from all corners of the world, Damsel stands out as a distinctive and playful contemporary Western that shakes up all expectations. The Zellner Brothers and their unusual narrative approach work perfectly with the combined talents of Pattinson and Wasikowska to inject inventiveness into a genre that has been revisited innumerable times since the birth of cinema. Darkly comical and highly reflective of the traditions of Westerns –– particularly their outdated portrayals of gender dynamics –– Damsel serves as an intellectual work that will keep audiences thinking long after the end credits roll. Despite opening to favorable reviews when it premiered at Sundance Film Festival in 2018, Damsel made a puny $323,235 when it hit theaters in the summer of that year. Regardless of its box office folly, Damsel is a unique, handcrafted film that deserves to be seen by any fans of the Western genre.


Read More:Robert Pattinson & Mia Wasikowska's Quirky Western Is Biting in the Best Way