Ukraine's state nuclear power company says that Russian forces opened fire at the Zaporizhzhia energy plant, raising the risk of fire and radioactive substance leaks.
Energoatom said in a Telegram post on Friday that Russian forces opened fire twice within a matter of hours against the Zaporizhzhia Nuclear Power Plant, located on the Dnipro River in a southern region that has seen heavy fighting during the Russian invasion of Ukraine. While Russia has accused Ukraine of attacking the plant, international monitors now worry that the conflict will produce a nuclear disaster.
The second round of shots came in the form of rocket-propelled grenades that struck Zaporizhzhia "near one of the power units where the nuclear reactor is located," Energoatom said in its post. The attack seriously damaged the plant's nitrogen-oxygen station and "combined auxiliary building."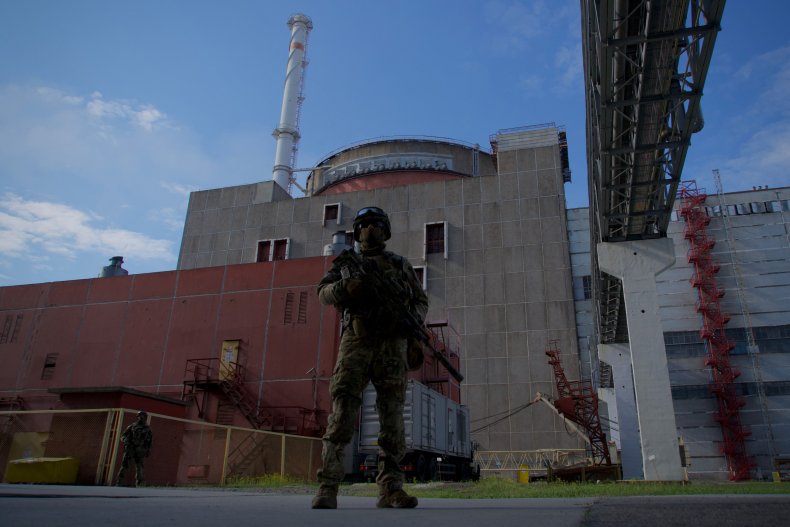 "There are risks of hydrogen leakage and sputtering of radioactive substances. Fire danger is high," the company said. "Currently, there are no victims."
Russian forces shelled Zaporizhzhia three times earlier, aiming at a high-voltage communication line and causing emergency diesel generators to switch on, Energoatom said in the post.
"This is the largest nuclear power plant on our continent," Ukrainian President Volodymyr Zelensky said in a national speech. "And any shelling of this facility is an open, brazen crime, an act of terror. Russia should bear responsibility for the very fact of creating a threat to the nuclear power plant."
Igor Vishnevetsky, deputy director of Russian Foreign Ministry's nonproliferation program, said during an arms control conference in New York on Wednesday that Ukrainian forces have repeatedly attacked Zaporizhzhia after Russia assumed control of the plant for safety concerns.
Located about 140 miles northeast of Russian-occupied port city of Mariupol, the Zaporizhzhia Nuclear Power Plant has been an ongoing source of concern since it was first seized in March.
Rafael Mariano Grossi, director general of the International Atomic Energy Agency (IAEA), earlier this week called the situation at Zaporizhzhia "really, really volatile." He said the plant's operations are still overseen by Ukraine's Energoatom even though Zaporizhzhia is occupied by Russia, making his agency's oversight functions exceedingly complex.
The U.K. Ministry of Defense released an intelligence update on Thursday stating that Russian forces are likely operating adjacent to the plant knowing that it reduces the likelihood of attacks.
U.S. Secretary of State Antony Blinken said on Monday at a United Nations arms conference that there are "credible reports" that Russia is using the plant as a shield to fire on targets.
"And of course, the Ukrainians cannot build that fire back, lest there be a terrible accident involving nuclear plant," he said. "So this is the height of irresponsibility."
Blinken called on the IAEA to be given access to the facility.
Newsweek reached out to the Russian government for comment.




Read Nore:Russians shell nuclear power plant twice within hours: Energoatom official