Liz Cambage has dropped a basketball bombshell, claiming she is in talks to join the Nigerian national team while opening up on her "hideous" experience at the Tokyo Olympics.
Speaking to Taylor Rooks of Bleacher Report in a wide-ranging interview, Cambage addressed allegations that she directed a racial slur towards Nigerian players during a warm-up game during the Opals' 2021 Olympic campaign.
Cambage withdrew from the Tokyo Games due to mental health concerns, confirming she had been involved in a physical altercation during the warm-up game and that there "were words exchanged".
However, she refuted claims of racial slurs aimed at Nigerian players, adding she was "pretty annoyed at all the fake news and lies" being reported at the time.
NBL BLITZ | SEP 16-22: Watch every game of the returning NBL preseason Blitz FREE & LIVE on Kayo Freebies. Join now and start streaming instantly >
When asked about the allegations and why her side of the story is so "drastically different", Cambage touched on her reluctance to compete at the Tokyo Olympics in the first place.
"A lot of girls don't like me and a lot of times I say no to something, people really want to make me look like the issue," Cambage said.
"I never wanted to go into that Olympics. I spent the whole week going into that bubble saying I don't want to be in the bubble. I'll show you text messages between me and Sandy Brondello [saying] I do not want to go to this Olympics, I do not want to be a part of this Olympics, I do not believe in this Olympics.
"I feel like the Tokyo Olympics is everything against what the true Olympics is. Like the Olympics is about nations coming together, not weird bubbles. I'm not a bubble girl. I have anxiety and I need to be able to leave situations like that [snaps fingers]… there is so much pressure.
Giannis in doubt for FIBA World Cup | 01:16
"This is the pinnacle of sport. This is the Olympics. I'm already struggling mentally and physically. I'm open and honest about everything… I went into the team and realised my number one person I needed there, my psychologist, has been kicked off the team. We're not taking a psychologist to the Olympics? I do not want to be a part of this.
"If there is one place I need mental help it is the Olympics. It is the most pressure cooker of the situation. I'm not just going to the Olympics to sit on the bench. You want me carrying this team. That is what I do. Get on my back, let's go, I'm going to take you to a medal.
"I'm already coming to the coach and captain at rock bottom dealing with relationship drama, Vegas drama, dealing with All-Star team drama."
Cambage, who later agreed to a "contract divorce" with WNBA team the Los Angeles Sparks in 2022, said she was disappointed with the way her image and reputation has been impacted.
"I think it's really sick and twisted that because I didn't want to be a part of the Olympics… you want to ruin my image and my reputation because I don't want to be on my team," Cambage said.
"It's like dealing with weird exes. Why are you talking with me?"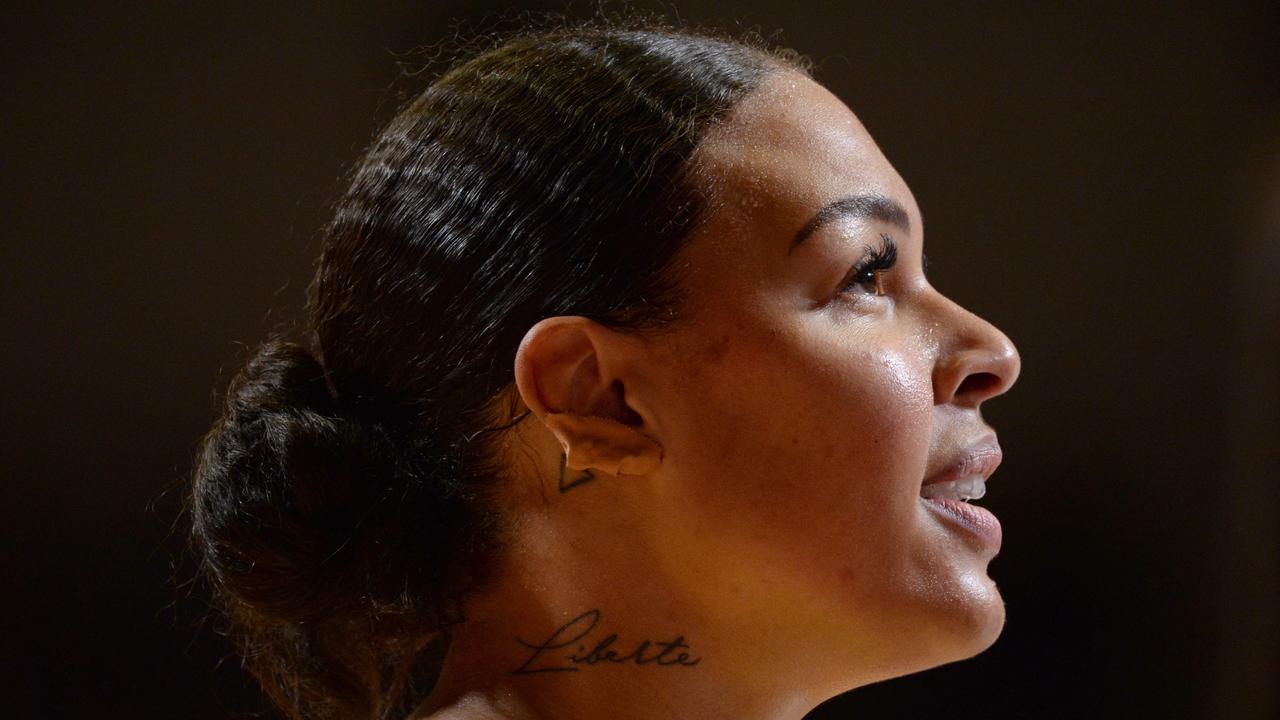 When again asked specifically about the allegations of directing racial slurs at Nigerian basketball players, Cambage urged tapes of the incident to be leaked so everyone can "see the truth".
"This one girl that has been saying I called them monkeys… I'll call you a b***h. I'll call you a dumb b***h. That's what I say to people I get angry with," Cambage said.
"I don't really lean towards racial insults. That's not how I go. I'm very pro-Black. I did not say these things. This girl that is saying all these things had a lot to say about me.
"Leak the tapes. I've never owned the tapes. Leak the tapes. Y'all want to see the truth, leak the tapes. Everyone in Australia that has seen the tapes, still lying about what is on these tapes, leak the tapes."
When pushed further to explain why "something as bad as this" would happen, Cambage suggested it was easier to make her the "scapegoat" to protect other organisations' interests.
"The truth looks a lot worse for other organisations involved than using me as a scapegoat," she said, not specifying who exactly these organisations were before claiming she was in talks with the Nigerian national team.
"Like, why does Nigeria want me to leave Australia and represent them? We're filing for me to leave the Australian team so I can represent Nigeria. I've been in cahoots, I've been talking with them since all of this happened.
"This is what I mean, people don't know the truth. I honestly haven't had one journalist that has written all these lies actually come to me and want my side of the story. There's a whole tape with the truth out there.
"I want it out there. Put it out there. I've never owned it. I didn't even have it when everything happened. I couldn't even protect myself with it. I had to get lawyers to get a tape with my own assault on it."
Cambage also later claimed that she had not told Nigerian players to "go back to their third-world country" and instead had said something very different.
"When this all happened a coach tried to be like, 'You said this', and I was like, 'I didn't say that'. I went to apologise to people [and said], 'I don't say these things. I don't know if y'all are deaf but that's not what I said'," Cambage explained.
"I didn't want these Olympics to happen. I think I'd just been hit and I was on the bench drinking and I was like, 'We should all go back to our f***ing countries. Like we should all go home'. I didn't say anything third-world, I didn't call anyone an animal, I didn't call anyone the N-word."
Nigerian basketball player Promise Amukamara took to social media to refute Cambage's claims, saying it is "false" that she is in talks to represent Nigeria in the Olympics.
"She called us Monkeys & told us to go back to our country. Yes she said that!" wrote Amukamara.
"Literally everyone from both teams have the same story BUT her, so y'all do the math! & the only person she has been in "cahoots" w/ was the former coach of our National team & he's no longer the coach, so there's that!"
When Cambage was asked what she would say to anyone who still doesn't believe her after the interview with Bleacher Report, she again called for the tapes to be made public.
"I understand that people believe in the media and just really believe in everything that's shown," Cambage said.
'It's just like half of what is shown is controlled lies to benefit the image of others. That's truly what the media is.
"I don't play games. I don't lie. I'm a very honest, truthful person. I sit here today and I'm like, 'Leak the tapes, do what you want', because the things they have shown you is not the truth.
"What do you want me to do? I put out a press release saying I didn't say these things. People just want to believe the negative in me."
Cambage said she still loves the sport of basketball and hopes representing Nigeria and playing with "teammates that understand me" will help her move forward.
"I have struggled a lot with the Australian team," Cambage said.
"I've said it constantly. I've dealt with teammates with blackface, I've dealt with coaches lying, coaches pushing other athletes to talk badly about me in the media. There's been a lot.
"I really hope Australia releases me and FIBA allows it because my fans miss me playing. I'd love to do another Olympics. Paris would be fab. There is nothing like an Olympic Village, it is one of the most inspirational places ever.
"My last Olympics was hideous. Rio Olympics was horrible. Rio Olympics was one of the worst times of my life and that's a reflection of the coaching staff and the team. I would love to start fresh with teammates that understand me, look like me, appreciate me and respect me. I have been talking with the Nigerian coach… he has my back."
Boomers seeking more medals ahead of WC | 01:18
Amukamara claimed the person Cambage is referring to is Otis Hughley, who was Nigeria's head coach before resigning from the role in 2022, with Rena Wakama appointed to the vacant role in June this year.
Opals head coach Sandy Brondello, meanwhile, confirmed in an interview with Code Sports last week that the "door has closed" on Cambage re-joining the team.
"No, it's our decision," Brondello told Code Sports.
"In the Opals program you have to fit in with the culture that we had. Liz did some great things for the Opals, but it was too much hard work near the end, and we don't need that. We have a short time together and one player can't overrule the team.
"It's all about the culture. We spend a lot of time on culture and if you can't buy into the culture, I won't pick you. It is as simple as that."


Read More:'She called us monkeys!': Nigerian star fires back at Cambage after basketball bombshell