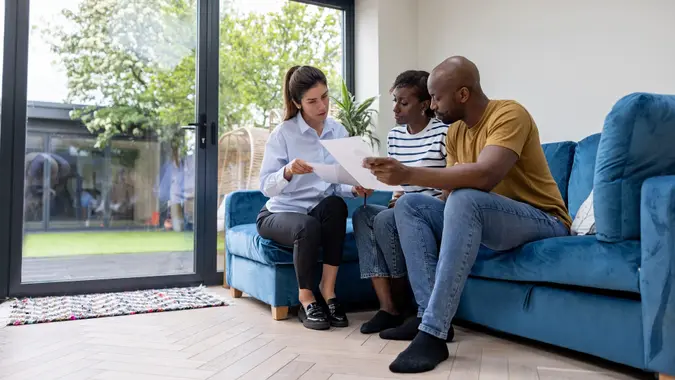 andresr / iStock.com
Drive through just about any town these days and you're likely to see curbs littered with signs from companies that want to buy your house. Those offers appeal to homeowners who are struggling with their mortgage payments or maintenance issues and welcome a fast, easy sale. While some of these companies are legitimate, their tactics often run counter to the homeowners' best interests. And in some cases, the "cash for houses" offers are outright scams.
See: 3 Things You Must Do When Your Savings Reach $50,000
Companies That Buy Houses: What Are They, and How Do They Work?
Companies that buy houses are operated by real estate investors or brokers looking for good deals on homes they can sell or rent at a profit. While they go about it in different ways, all these companies have one thing in common: They pay you less than your home is worth and less than you could sell it for on the open market — 50% to 70% less, according to a report from U.S. News & World Report.
The types of companies you might encounter include:
Flippers: Companies like We Buy Ugly Houses, and even individual investors, looking for properties in poor condition that they can buy cheap, fix up quickly and resell at a profit
iBuyers: Companies like Opendoor that use technology to estimate the value of your home, then make an offer based on that valuation
Long-term real estate investors: Companies and individual investors who buy homes in poor condition, fix them up and rent them out to short-term or long-term tenants. These companies might manage the properties themselves or use a third-party property manager.
Buy-before-you-sell brokerages: Real estate brokerages like Orchard that will buy your house to provide the cash you need to purchase a new home — which, of course, it hopes to sell you
Homeowners agree to the sales for any number of reasons. For example, they might want a quick, hassle-free sale, even if it means accepting less money for the home. Or their home is in poor condition, and they can't afford to make necessary repairs or don't want to. The homeowner could even be looking to stave off foreclosure.
Real Estate Scams To Watch Out For
Not all companies that buy houses are scams. Many, including those listed above, are legitimate businesses. But scammers have subverted their business models to defraud consumers.
The Pennsylvania attorney general's office warns consumers about a scam involving companies promising foreclosure relief, saying they'll buy the home and pay the loan. However, they don't pay off the mortgage, which leaves the homeowner responsible for it even though they no longer own the home. This can be devastating, as mortgage loans typically have a due on sale clause requiring immediate repayment in the event the borrower sells the home.
In another scam detailed by the Pennsylvania AG's office, the "cash for homes" company promises to buy the home as is, but later reneges, leaving the homeowner to choose whether to make the repairs for the sake of closing the sale or trying to start over with a new buyer.
In a related scam, the company makes a seriously low-ball offer, then sells the contract to an investor who may or may not close the sale. At best, the homeowner is left to start from scratch with a new buyer. At worst, the sale closes and they make a fraction of what the home was worth.
IBuyer.com warns of false sales, where the scammer offers to buy your home for cash but sends a check before closing. They then claim to have overpaid, and they ask you to send them a refund. By the time you realize their check was a fake, they've taken your money and run.
How Not To Get Scammed
Whether you're looking to avoid actual scams or simply bad but legal deals from legitimate companies, these tips will help to ensure that you get a fair deal on your home sale.
Get your home appraised. The only way to get a trustworthy estimate of your home's market value is to get an appraisal by an independent licensed appraiser. Alternatively, a comparative market analysis from a real estate agent will give you a realistic listing price.
Be suspicious of a company that tries to pressure you into a quick sale.
Never provide your Social Security number, bank account number or other sensitive information to a prospective buyer. Later, when you need to provide bank information to accept your payment, double-check the requester's information to make sure it's the company that is buying your home.
Get multiple offers to make sure any offer you're considering is the best you can expect.
Never accept an offer from a company or investor that hasn't seen your home in person.
Insist that offers be in writing.
Check a company thoroughly before you agree to sell it your home. Look for a professionally designed website, an email address with "companyname.com" and reviews on sites like Google and Trustpilot. You can also see if it's listed on the Better Business Bureau website and search for complaints on the Consumer Financial Protection Bureau's consumer complaint database.
H

ave an attorney review any documents provided to you by a cash-for-homes investor before you sign to make sure you

understand the terms of the deal

and its consequences.

Don't sign over a deed until you have cash in hand.

Refuse to pay upfront fees — you shouldn't pay fees to a buyer, and if real estate agent commissions are due, they'll be paid at closing.
Is It Good To Sell Your House to an Investor?
Selling your home to an investor might be a good solution as a last resort, but you're best off trying to sell the home to a traditional buyer first.
Cash buyers often make big claims — HomeVestors, for example, even claims to be America's largest cash homebuyer — but the fact is, all sale proceeds come to the seller as cash. The only difference with a traditional buyer who finances the purchase is that you have to wait for the loan to close before you can close the sale. Considering that those few extra weeks can put tens of thousands of extra dollars in your pocket, the wait to sell your home for what it's worth is time well spent for most sellers.
Read More:
Should You Trust Companies That Buy Houses? 10 Tips To Avoid Scams