Taylor Swift delivers emotional catharsis and anthems galore in epic, three-plus-hour show
Taylormania has finally arrived in Southern California.
Nearly five months after she launched her first road show since 2018, Taylor Swift is wrapping up the initial U.S. leg of her blockbuster Eras tour with six sold-out concerts at Inglewood's SoFi Stadium starting Thursday night.
The tour ostensibly comes behind Swift's 10th studio album, "Midnights," which came out in October and immediately set a record for the most streams ever accumulated in a single day on Spotify. Since then the LP has been certified double platinum and spun off a No. 1 single in "Anti-Hero"; it's also a strong contender for an album of the year nomination at February's Grammy Awards.
As the tour's name suggests, though, Swift's live show — with dozens of songs spread over three hours or more — is meant to encompass the 33-year-old's entire career, from her days as a teenage country phenom through her pop breakthrough with 2012's "Red" to her current station as a kind of fairy godmother figure to a generation of younger songwriters including Gracie Abrams and Gayle, both of whom are among her opening acts at SoFi.
Has any pop-culture event been more closely followed this summer? (Maybe "Barbenheimer.") In addition to the hundreds of thousands of people who've taken in one of Swift's gigs in person — driving gross proceeds toward an expected $1 billion or more by the time she's finished circling the globe next year — the Eras tour has maintained a constant presence on TikTok thanks in the part to the show's blend of novelty and familiarity: You know she'll play a surprise song or two, but you don't know which ones; you know she'll place a hat on a lucky fan's head during "22," but you don't know who the fan will be.
Might Swift, who revealed early Thursday that she'd scheduled a second round of North American dates next year, have even more up her sleeve in L.A.? The Times' Mikael Wood and Suzy Exposito are at SoFi for opening night and will provide live updates from the show as it happens.
6:12 p.m. Greetings from SoFi Stadium, where the struggle to park is real enough that I just saw somebody's pink boa come hurtling out of a car window in what looked like frustration. (Hope they brought an extra.)
I'm Mikael Wood, The Times' pop music critic, and I'm here with Times columnist Suzy Exposito for Night 1 of Taylor Swift's weeklong … takeover? Residency? Not sure yet what we're calling this.
In any event, tonight won't be my first time seeing the Eras tour; I was there back in March for the road show's opener in Arizona. But I'm excited to see what's changed, what's different and of course how palpable the crowd frenzy is now that folks know what's coming. — M.W.
6:35 p.m. The first of tonight's opening acts is 23-year-old Gracie Abrams, a talented L.A.-based singer-songwriter — and the daughter of filmmaker J.J. Abrams — who told me recently that Swift has been such a formative influence that she can't "remember a time in my life where Taylor wasn't the immediate go-to inevitable soundtrack." Abrams added: "She has scored every formative memory I have" — a level of influence I don't think I've ever heard an artist describe before. — M.W.
6:47 p.m. One thing I know about the show now that I didn't know in March: the existence of the little tent in which Swift's celebrity pals watch the show. Will definitely cruise by and try to clock who's there — minutes (hours!) behind the teens on TikTok, no doubt. — M.W.
7:04 p.m. "Hi, L.A. — this is so crazy," Abrams tells the crowd of tens of thousands at the top of her set, which is certainly fair considering that I saw her play the comparatively tiny Fonda Theatre in Hollywood just a few months ago.
Abrams' Swift standom is no less intense onstage than it was in our interview: "This tour has been beyond our wildest dreams," she says, going on to describe the Eras tour as "the best thing that's ever happened."
And yet she's doing her breathy and introspective chamber-folk tunes with a poise that belies however amped she is inside. — M.W.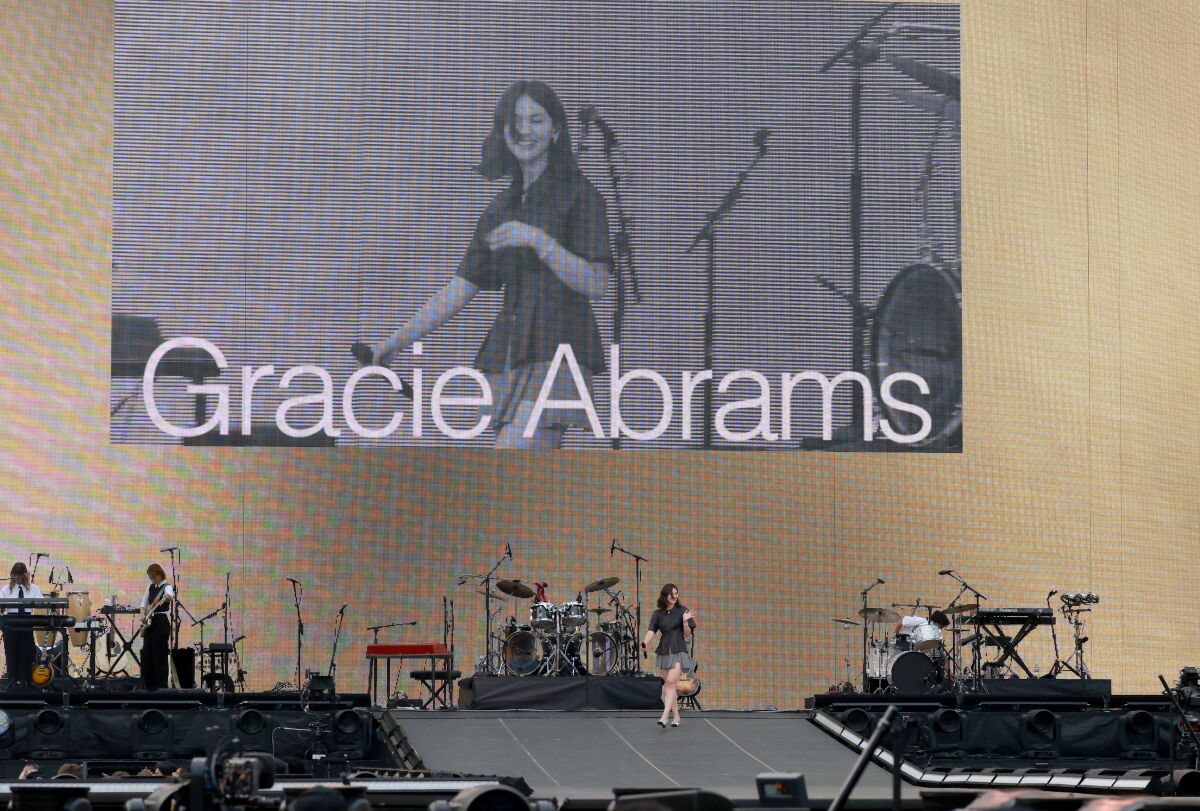 7:05 p.m. A true Angeleno, Abrams asks the audience if they were at Swift's "1989" shows at Staples Center — before the dreaded name change to Crypto.com Arena — back in 2015. — M.W.
7:10 p.m. A pre-show anecdote that Swifties (and their moms) should be able to relate to: As evidenced by the barren shelves that were once filled with letter beads, it was clear that fans had ransacked craft stores all over greater Los Angeles this week to partake in the Eras tour tradition of wearing homemade friendship bracelets to the concert. I searched Hollywood, Glendale and Pasadena — where at Michael's, an agitated woman, likely some young girl's mother, began flinging packets of beads with only numbers on them. "I can't believe I'm doing this," she swore under her breath, before smiling wryly at me. "It's ALLLLL for the TikTok!" she said with a laugh. — Suzy Exposito
7:22 p.m. Next up as the evening's second opening act is Haim, the sly L.A. sister trio who've been opening for Swift for what seems like eons. As with Abrams, I caught Haim recently at a small club (in this case the just-opened Bellwether); curious how they fare in the gigantic stadium setting. — M.W.
7:37 p.m. "Any Valley girls here tonight?" asks Alana Haim, whose sister Este volunteers that she was "born and raised in the 818" — Tarzana, specifically. (Este leaves the precise coordinates of her sisters' origins unstated.) Then the trio rips into "Want You Back," accompanied by video footage of a stroll down Ventura Boulevard where Sherman Oaks edges into Encino. — M.W.
7:48 p.m. Haim is really bringing the laid-back, '70s country-rock vibe to SoFi. These L.A. witches are a fitting opener for what's essentially the biggest coven gathering this city's seen in years. — S.E.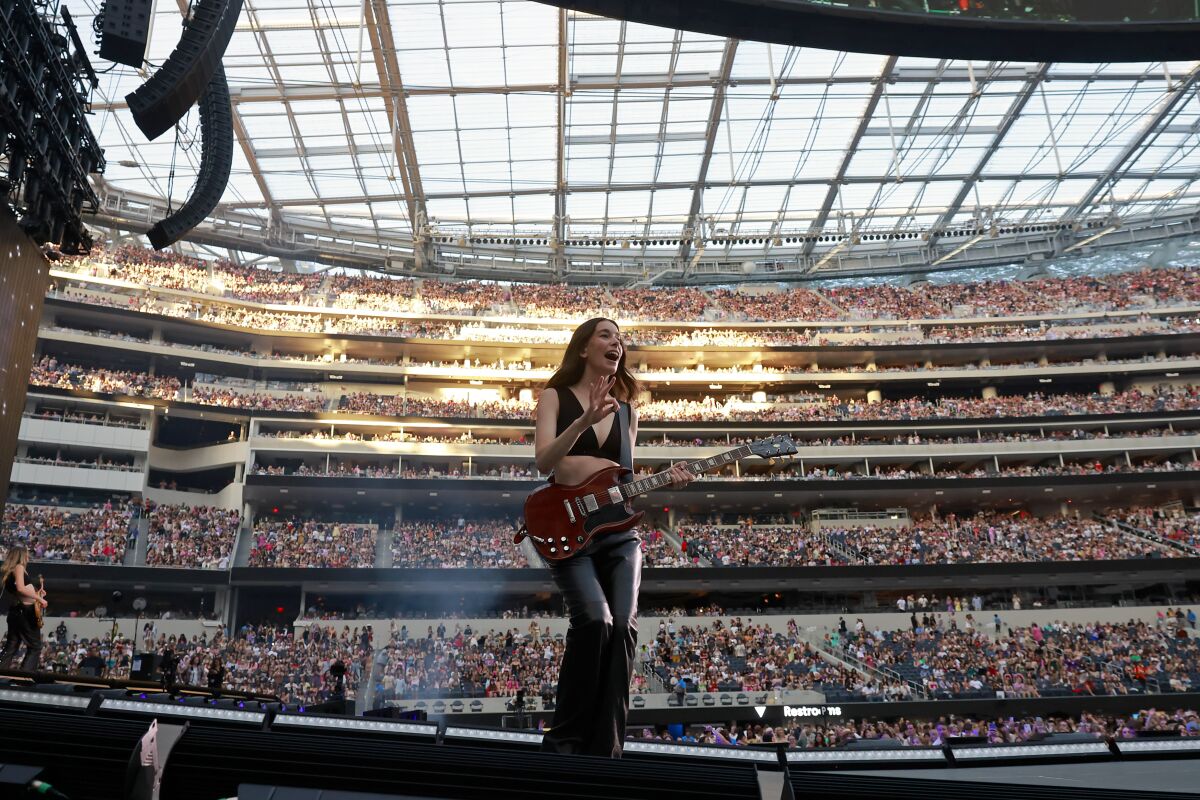 7:52 p.m. Haim closes with "The Steps," which feels like the rawest rock song I've heard at SoFi since … the Rolling Stones in 2021? — M.W.
7:56 p.m. Between the "Barbie" movie and the Eras tour, it's been a banner summer for girl culture. I love seeing girlfriends (straight and gay) here, in their matching boots and fuzzy cowboy hats. Taylor is obviously not just for girls — dads too, and I've seen several guys here sporting tiaras, sequins and/or pink — but to be a girl feels aspirational in a place like this, even if it's only for the next six nights. — S.E.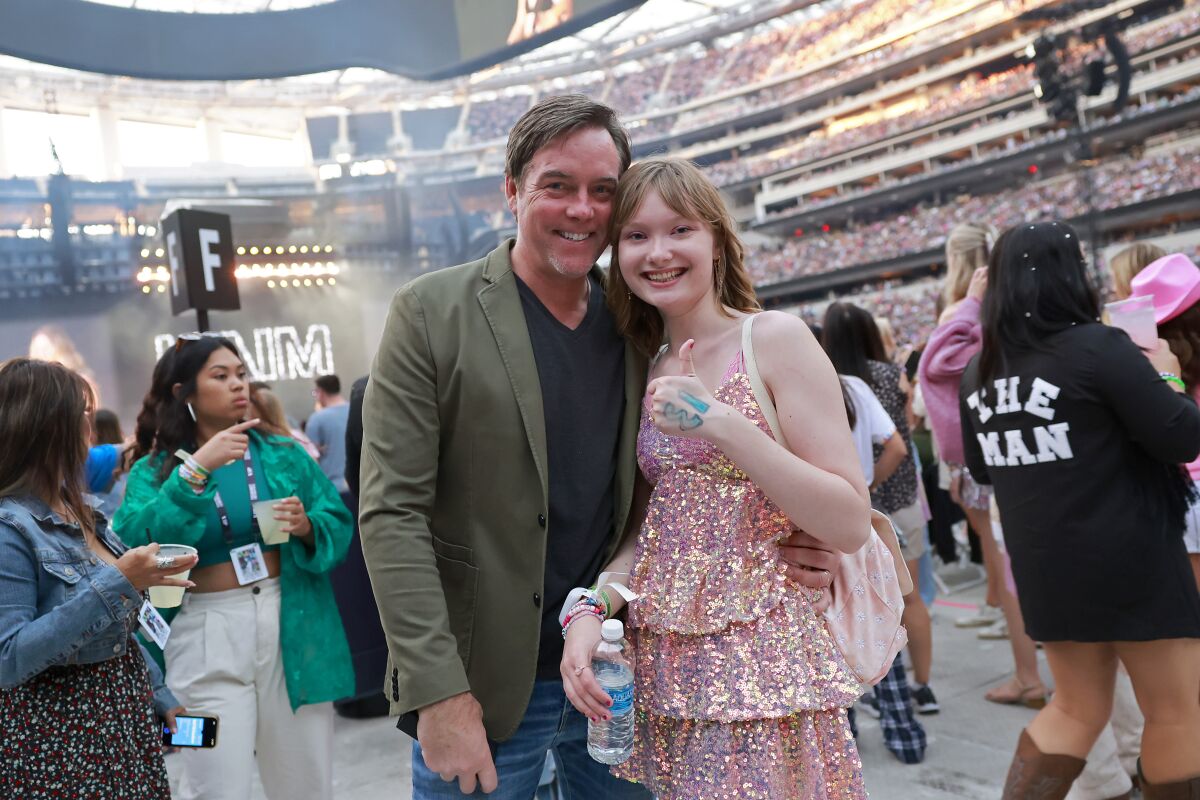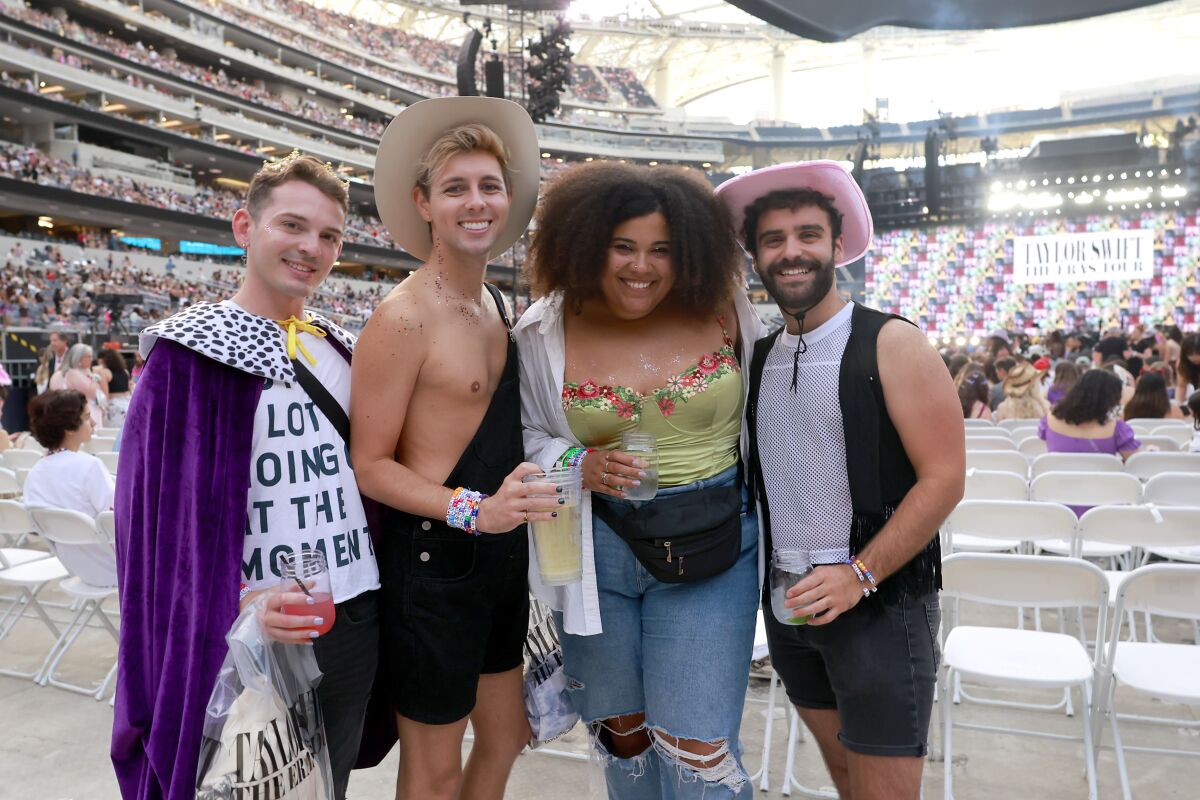 8:13 p.m. Spotted in the celebrity tent: Babyface! — M.W.
8:25 p.m. We happen to be seated next to Heidi Montag and Spencer Pratt of "The Hills" fame. Heidi's favorite Taylor era? "Folklore." His? "Reputation." I would be remiss if I didn't mention that Speidi kindly gifted me a bracelet of beads from their shop, made of rose quartz and jade. Thanks y'all! — S.E.
8:29 p.m. Taylor time: Swift opens with "Miss Americana & the Heartbreak Prince," as she has every show on the tour, before moving into "Cruel Summer," which has become an honest-to-goodness radio hit three years after its release. The roar of the crowd is absolutely deafening. — M.W.
8:34 p.m. Swift dons a sparkly suit jacket to sing "The Man,"which she's staging amid an old-school scene a la "Mad Men." — M.W.
8:35 p.m. The tens of thousands of Swifties wearing light-up bracelets are glowing across the stadium for her song of LGBTQ solidarity, "You Need to Calm Down." Taylor is for lovers! — S.E.
8:38 p.m. "Is there anyone here who put in an extensive amount of effort to be with us here tonight?" Swift asks. Then she wants to know if this extra effort can be put into two categories: "lyric memorization and your cute outfit?" With regard to cute outfits: seeing many a sparkly cowboy hat. And, yeah: Basically every human here knows every word to every song. — M.W.
8:48 p.m. Swift has come out to the end of her stage runway to sing "The Archer," which means it's time for the folks next to us to hold up their signs and shake them in the hope that Swift sees them. Directly in front of us: A girl of probably 8 whose sign reads "SLAY." — M.W.
8:54 p.m. We have moved from the "Lover" era to the "Fearless" era, and what I'm thinking about as Swift sings "Fearless'" title track is how she's managed to renew her fan base with young people who don't view these songs as juvenile but as utterly up-to-date evocations of young love. Who else has grown up with her audience at the same time that she's replaced it? — M.W.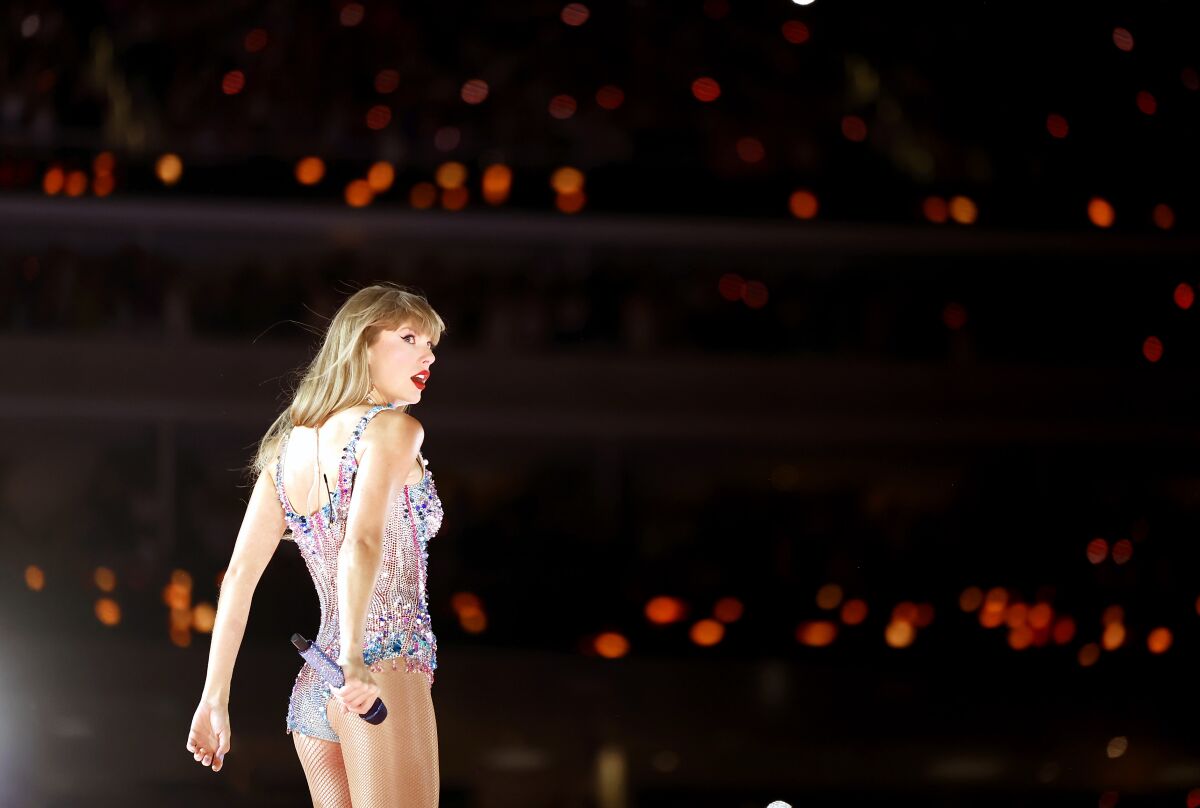 8:59 p.m. Internet rumor had it that these SoFi shows were set t be filmed for a concert movie of some sort. Can confirm that there are multiple cameras on cables soaring above the crowd. — M.W.
9:00 p.m. Key change in "Love Story?" Still totally epic. — M.W.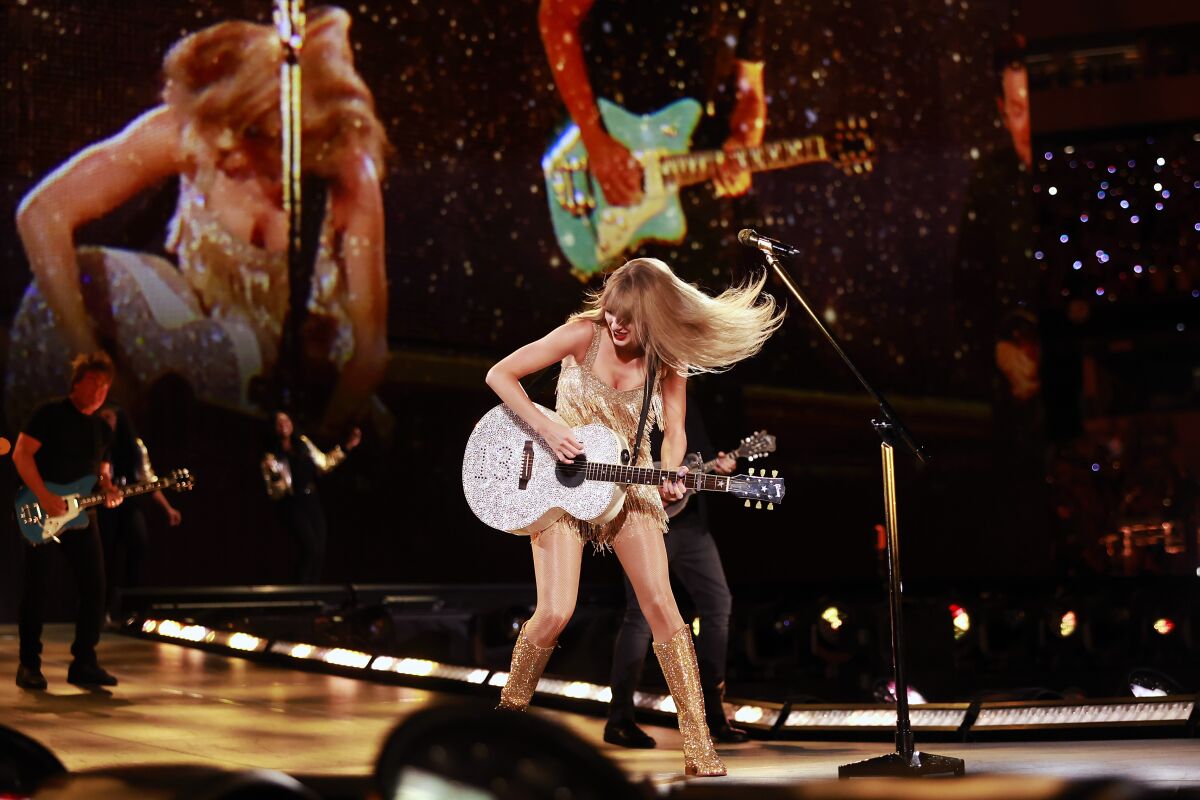 9:02 p.m. We're into the "Evermore" era with an assist from Haim, who've joined Swift for "No Body No Crime." — M.W.
9:11 p.m. Was "Willow" as deliciously witchy as this when I saw her in Arizona. I don't remember Taylor in a cape and her dancers holding glowing orbs, as they are here tonight. — M.W.
9:14 p.m. Swift is singing "Marjorie" and there is a woman in front of me shaking her hair and convulsing like Elaine Benes in "Seinfeld." She must have caught the spirit — or had one too many margaritas. — S.E.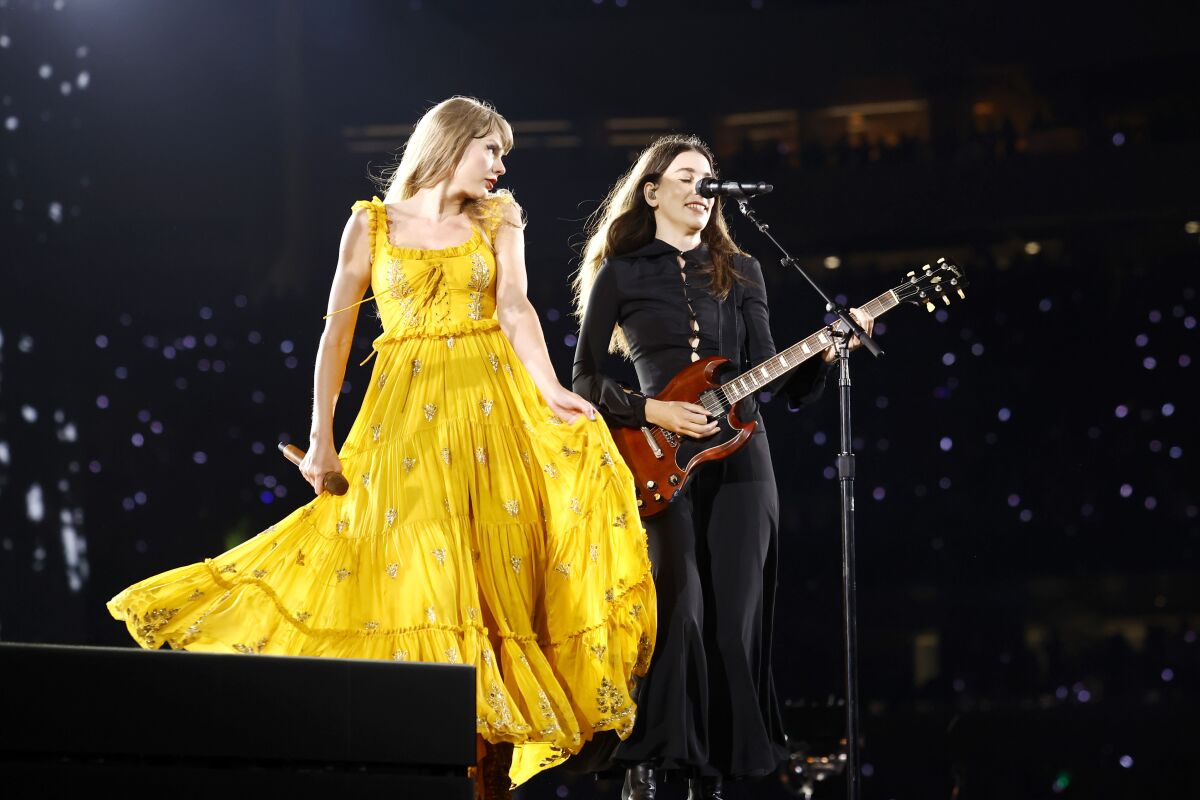 9:20 p.m. "We have a lot to catch up on, musically speaking," Swift says, before explaining that the reason she didn't tour for five years was because we had "much more important things we had to worry about" amid a "global pandemic." Once she got back on the road, she says, people would ask her if she intended to play, "like, a three-hour show." Yes, she says — that's exactly what she intended to do. Cue "Champagne Problems." — M.W.
9:22 p.m. Swift is taking a minute, head resting upon her moss-covered piano, to take in the crowd's adulation. — M.W.
9:30 p.m. Swift is staging "Tolerate It" as a dismal dinner with a partner completely uninterested in what she has to say about her day. Spend a second thinking about how wild that is for a stadium pop show — M.W.
9:32 p.m. We hear boots clacking ominously across the stadium. The "Reputation" era is nigh. — S.E.
9:35 p.m. The "Reputation" portion of the show starts with "Ready for It," which is — what would you even call this song? Confessional trap? (Please don't call it that.) — M.W.
9:45 p.m. Wild to remember how controversial "Look What You Made Me Do" was when it first came out — for Swifties, this song is basically "Hotel California." — M.W.
9:49 p.m. Hear me out — "Look What You Made Me Do" is a killer electroclash song that made it to the airwaves 15 years too late. — S.E.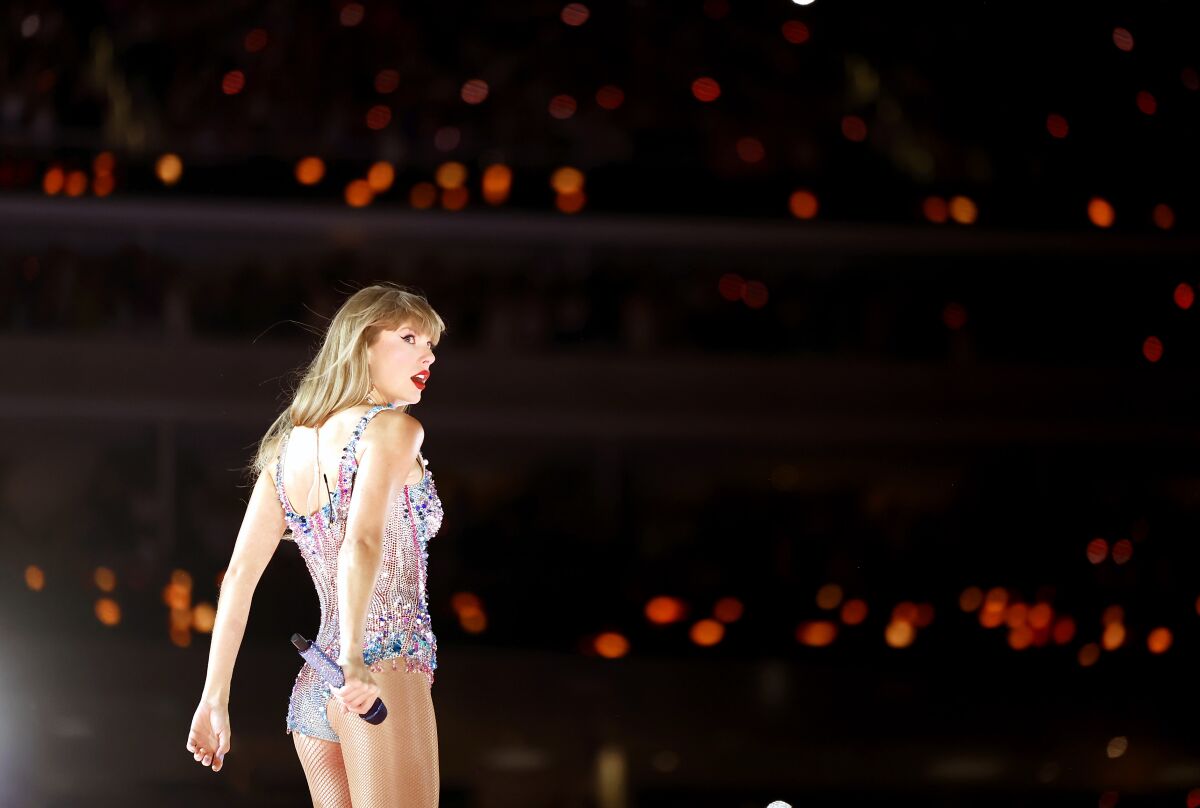 9:52 p.m. We've reached the halfway mark — insane, obviously, given that the show has been going for 90 minutes — with "Enchanted," which has the crowd singing along in fairy-tale abandon. — M.W.
9:59 p.m. Time for the "Red" portion, for which this crowd seems very, very primed. — M.W.
10:05 p.m. Spotted during "22": Este Haim dancing in the aisle. — M.W.
10:10 p.m. "There is one more song from the 'Red' album that I wanna do," Swift says. "Do you have about 10 minutes to spare?" — M.W.
10:11 p.m. Imagine: Over 60,000 Taylor fans screaming about Jake Gyllenhaal's "F— the Patriarchy" keychain. — S.E.
10:13 p.m. "All Too Well"'s "little kid with glasses" line will never not get me. — M.W.
10:18 p.m. At the risk of giving into Taylormania, who else is out here regaling stadium crowds with 10-minute dissections of relationships gone wrong? It is truly insane that the summer's biggest pop tour is also its most emotionally complicated. — M.W.
10:20 p.m. "All Too Well" also made for a really beautiful moment: I saw several moms cradling their up-past-their-bedtime daughters. — S.E.
10:23 p.m. Still left to go: "Folklore," "1989" and "Midnights." — M.W.
10:30 p.m. Hearing "The 1" really takes me back to that morning in pandemic-plagued 2020 when Swift announced that "Folklore" was coming later that evening. Seems like an eternity ago. — M.W.
10:34 p.m. Wielding a mahogany guitar, Swift is perched atop a frame of a woodsy two-story house covered in leaves and moss. Jamming below is her trusty band. "This is a rendering of what I imagined in my head when I started writing 'Folklore' — two days into the pandemic," she says. "I took the time to imagine myself not as a lonely millennial woman covered in cat hair and watching 70 hours of TV at a time… but as a Victorian woman writing on parchment with a quill in the woods and living in this house." — S.E.
10:35 p.m. Have to love when an entire stadium of people sings, as in "Betty," about a moment of being told to "go f— myself." — M.W.
10:42 p.m. During "August," Taylor lived out her best Kate Bush fantasy by sprinting across the stage in a flowing white gown — then came crashing down to her knees as she cut to "Illicit Affairs." High drama! — S.E.
10:47 p.m. "Illicit Affairs" tonight sounds like … a Disturbed song? Can't say I can recall another moment when Taylor leaned as heavily into her aggro side as she's doing right now. — M.W.
10:53 p.m. The conventional wisdom on "Folklore" and "Evermore" was that Swift made these albums knowing that touring wasn't an option. But it's fascinating to hear how she's configured these songs for the biggest stages in the world. They're dirty but polished, confessional but anthemic, intimate yet geared to the needs of more than 60,000 people seeking some kind of catharsis — M.W.
11:00 p.m. Pop Taylor has arrived. We are into "1989" with "Style" and "Blank Space," the latter of which has two dancers riding bikes down the stage runway as Taylor swings a light-up golf club — M.W.
11:02 p.m. "Shake It Off" is as bad tonight as it was when it came out a decade ago. Moving on… — M.W.
11:09 p.m. "Welcome to the acoustic set," says Swift. — M.W.
11:18 p.m. For tonight's surprise songs, Swfit does "I Can See You" (from "Speak Now") on guitar, and "Maroon (from "Midnights" on piano. — M.W.
11:19 p.m. At the time, "I Can See You" was — and honestly still is — a risqué song compared with the rest of her oeuvre, a psychosexual thriller told from the point of view of teenage Taylor. — S.E.
11:22 p.m. Now we are into the "Midnights" era, with a video of splashing waves that turn into a moody-looking cloud. — M.W.
11:23 p.m. Oh, Swift is in pop diva mode, performing "Lavender Haze" wearing a purple feathered robe. — M.W.
11:27 p.m. All I have to say about "Anti-Hero" is that the image of a giant "lurching toward your favorite city" remains one of the most indelible of the 2020s. — M.W.
11:34 p.m. At the heart of "Midnights" is the intimacy between a superstar and her therapist — bless them, wherever they are — and we get the transcripts in the language of synth-pop. — S.E.
11:35 p.m. Do I love "Vigilante S—"? I do not. It might be the corniest song in Swift's catalog — a catalog that includes "Welcome to New York!" But she is giving it her all tonight, with ten dancers serving up big "Chicago" energy — M.W.
11:38 p.m. We're well past the three-hour mark as Swift starts up "Mastermind." — M.W.
11:41 p.m. "I will never forget this," Swift says as her band revs up "Karma." — M.W.
11:45 p.m. And that's a wrap, on a genuinely epic night of music. Now, to try to get out of this stadium… Thanks for reading! — M.W.


Read Nore:Taylor Swift delivers emotional catharsis and anthems galore in epic, three-plus-hour show