Troy Awasis: "You rip everyone's tents down — that's not going to solve the problem."
Troy Awasis spent Tuesday night in a tent on East Hastings Street with his dog, Rebel.
When he woke up, he was told to pack his stuff and leave his spot outside a red-brick residential building near Carrall Street, as a city-led operation that began one week ago to clear the sidewalks continued Wednesday.
"Every day, they come and tell us to take it down," said Awasis, who planned to find another spot on the sidewalk before nightfall.
He has slept — sometimes without a tent — up and down East Hastings since a fire erupted a few weeks ago in the building he lived in at Columbia Street. The building didn't burn down, but there was enough damage that he couldn't return to his place.
He had only resided there for two months, having been homeless off and on for seven years.
Trying to find a shelter that will accommodate him and Rebel, who is a mix of Jack Russell, Pomeranian and Chihuahua, has proved difficult, said Awasis, whose focus Wednesday was to continue searching for a place that would get the two of them off the street.
Last Wednesday, he said, when the city and police ramped up efforts to dismantle the encampment, he lost some of his personal belongings to a garbage truck. Trying to explain to city crews that his building was damaged in a fire didn't matter, he said.
At the same time, he added, he understands the need to clear the sidewalks — and the concern from residents and building owners about open drug use — but emphasized a housing plan should have been in place for people on the street.
Without one, he said, people like him will just return to the sidewalks.
"It's frustrating when you've got to take your tent down every day, but a lot of people down here don't know how to clean up after themselves, and that's probably why the city cracks down a lot," he said. "But you just can't kick people off the street with nowhere to go. You have to find some sort of housing for them."
Glacier Media counted 27 tents and structures between Gore Avenue and Carrall Street at 9 a.m. Wednesday. Small teams of police and city crews moved up and down East Hastings to continue the decampment, but did so without closing down the street.
The massive push April 5 and 6 to end the encampment was a continuation of the city's efforts to clear the sidewalks, as per Fire Chief Karen Fry's order issued in July 2022. City officials told reporters last week that the safety of people living on the street and in buildings was paramount.
More than 370 fires occurred on East Hastings Street in the past eight months.
An email from the city's communications department Wednesday said the city has seen a marked improvement along East Hastings regarding fire safety, with fewer tents and structures along the strip.
30% decline in DTES fires
As part of the operation April 5 and 6, crews took down 94 "entrenched structures" and removed 50 propane tanks from the encampment zone. More than 70 totes for storage were also provided to individuals and stored off-site, the city said. 
"Since April 6, VPD are finding fewer weapons along this stretch of East Hastings," the city said.
"Engineering has noticed an improvement in sidewalk accessibility and bylaw compliance compared to last week. Vancouver Fire Rescue Services has confirmed nearly a 60 per cent decline in outdoor fires in Vancouver over the past five days and nearly a 30 per cent decline in fires in the Downtown Eastside since the cleanup." 
The city said its teams engaged with 56 people associated with structures removed over April 5 and 6. Of those, 18 accepted referrals to shelters, whose operators held beds for each of them, the city said.
"While the number of shelter spaces available can fluctuate, all residents experiencing homelessness and sheltering overnight in the East Hastings encampment who have requested a space were able to be accommodated," the city said.
"While some shelters have been at capacity, there have been spaces available every night in the system." 
From last August to April 5, more than 600 structures were removed from the area and more than 150 people accepted and moved into housing. And more than 165 people accepted referrals to shelter.   
The city pointed out some people who were in the encampment have housing and others were there for reasons such as vending or socializing. BC Housing and the city are working together to rapidly deploy additional social and supportive housing to provide options for people to come inside, the city said.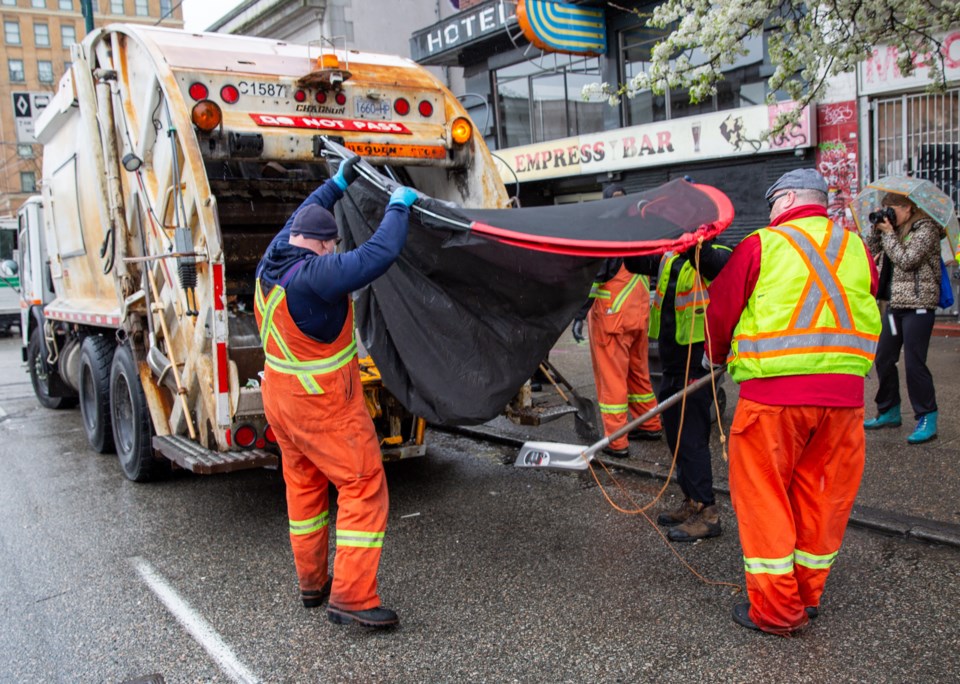 'Quick response teams'
City manager Paul Mochrie told reporters April 5 that the goal was to end the encampment by the end of that day. The city acknowledged in its email what was obvious Wednesday — that work continues to end the encampment, but wouldn't say if it is an indefinite operation.
"To prevent entrenched structures from returning, city crews with the assistance of the VPD will deploy quick response teams to remove structures under the street and traffic bylaw as soon as possible," the city said. "In the longer term, we are looking at different integrated models for encampment response." 
The city reiterated what municipal politicians past and present have said for years about homelessness — that it is a regional challenge, with Vancouver operating 75 per cent of the region's shelter spaces, 77 per cent of the supportive housing units and 50 per cent of the social housing.
"This model is not sustainable," the city said. "The city looks forward to working in partnership with other municipalities, senior levels of government and non-profit partners on a regional homelessness approach to address this crisis."
Meanwhile, Awasis predicted city crews would not be able to fully end the encampment. Even if they were successful, he added, people will just end up in other neighbourhoods.
"Where do you expect everyone to go?" he said. "You rip everyone's tents down — that's not going to solve the problem. They're going to have a tent up somewhere else, push them out of downtown and then that's really going to start bothering people."




Read More:What the East Hastings encampment looks like — one week later